In an increasingly digital world, the old days of advertising on the Yellow Pages, handing out flyers or even calling prospective customers on the phone are pretty much over.
New technologies and the Google revolution are having a tremendous impact on marketing strategies among every single industry you can think of. And healthcare is no exception.
Here are a few steps you can follow to market your practice in the digital age.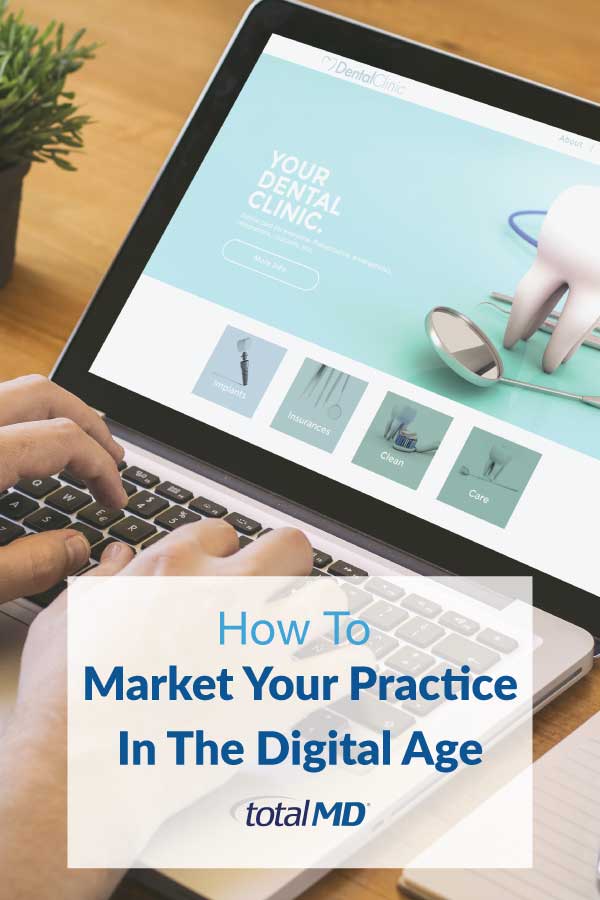 Online reviews are the new word of mouth
According to a survey conducted by Software Advice, 72 percent of patients read online reviews as a first step when they're looking for a new provider.
The same survey also shows that 94 percent of patients use reviews websites not only to read reviews but also to post comments about a provider. This means if you want new patients, you need to keep your current patients happy because they're the ones who are going to take the time to write a review for you, and you want it to be a good one.
It's interesting to note that what constitutes as a good patient experience for most patients has very little to do with the clinical aspect of their visit. A recent study found that 84 percent of negative Yelp reviews refer to non-clinical issues such as billing issues, wait times and poor communication. If you want some tips on how you can keep your patients happy, we recommend taking a look at this blog post about improving patient experience.
The majority of patients say Google is their primary source for online reviews, followed by Healthgrades, RateMDs and Yelp.
Fortunately there are several reputation management review tools out there that can help you streamline the process of getting reviews posted. With TotalMD Communicator for example, you can get reviews posted directly to Google, Facebook and Yelp.
Work on your online presence
Building an online presence is crucial for managing your online reputation. Having your own website is highly recommended, and you don't have to spend a lot of money developing it yourself. There are plenty of online tools with templates you can customize fairly easily such as WordPress, Weebly or Wix.
On the next section we'll talk about what kind of content you need on your website in order to be ranked highly on search engines such as Google.
The second thing you need to do is claim your Google My Business listing. It is free and very easy to do. You can add basic contact information, images and hours of operation. This one's very important because this is the first thing people will see when they google you, and it's where your Google reviews will show up. Remember most patients read Google reviews first!
Other listings you should consider are Healthgrades, Yelp, RateMD, Vitals, Checkbook and Zocdoc.
Search Engine Optimization (SEO) is key for digital marketing
If you ask any marketer what's the most important thing to market your practice in the age, they'll tell you it's SEO. SEO is as important now as it was owning a practice on the main avenue of a city 50 years ago. It is how your potential patients will find you.
An SEO strategy will help you rank highly on search engines such as Google, and your long term goal should be to appear on the first page since click-through rates decrease significantly after that.
The second most important thing you need to know about digital marketing is content. You want to make sure your website content includes keywords or phrases people commonly search for when they're looking for a provider.
According to a study by Healthgrades, most patients are more likely to choose a provider based on convenient location. For example, if your practice is located in Riverside, California, make sure you mention that several times on your website. Or if you're an endocrinologist who specializes on diabetes, try to create some content focusing on that as well. So when people google "Diabetes specialists in Riverside, California," your business will appear at the top.
But before you're creating SEO content, you need a website that is optimized for SEO as well. Load time and mobile optimization is very important when it comes to SEO ranking. 40 percent of people abandon a website if it takes more than three seconds to load and 68 percent of health-related searches are initiated on mobile devices. This means your website's load time should be as fast as possible, and it should be optimized for mobile search engines as well.
If you build your website using WordPress or a similar tool, it is very likely that your site is fast and optimized for mobile.
Social media matters
When it comes to building your online presence, social media is key. According to a PricewaterhouseCoopers report, 41 percent of respondents said social media influenced their choice of a physician or a hospital.
This becomes even more relevant if you want to attract Millennial patients since 83 percent of Millennials have a Facebook account.
Social media can be a great way to advertise your offers, for example. It can also be a great way to both engage with your patients and increase website traffic by sharing educational content you publish on your site.
Embrace the digital revolution!
Now that you know all the facts and hard numbers about digital marketing in the healthcare industry, and learned how to market your practice in the digital age, it's time to get to work. You're more than welcome to get in touch with one of our sales reps and learn more about how TotalMD can help you get started.