Patient experience and patient-centered care have been some of the most common topics among healthcare journals, conferences and blogs in the recent years.
There's an entire patient experience movement out there and a ton of literature on the subject, from implementation models, to surveys and measurement tools. It might be overwhelming to know where to start.
If you've been thinking about improving patient experience in your practice but you don't know how to begin, this article will help you get started.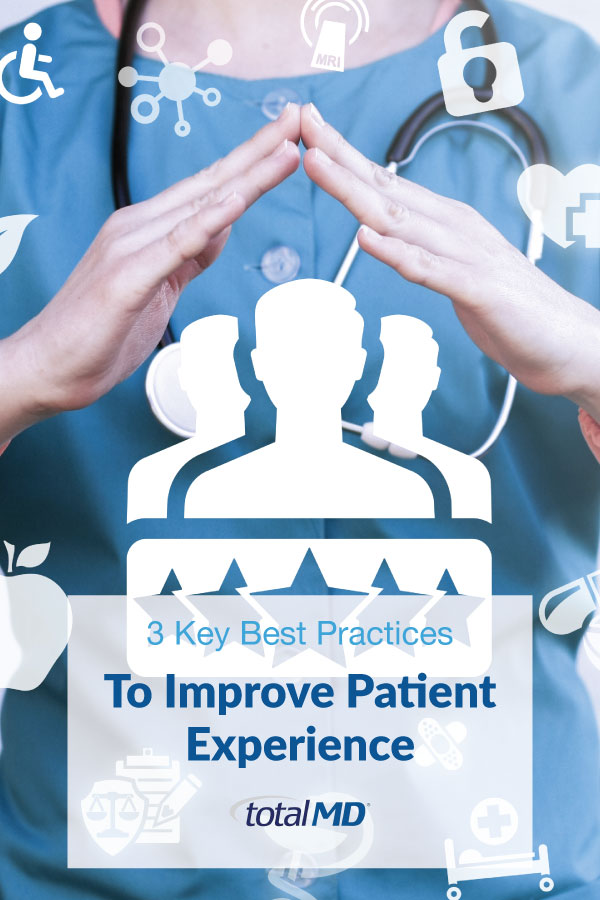 What is patient experience?
Let's start with the basics. What exactly is patient experience and why is it important? Although there's not just one definition, The Beryl Institute —an non-profit organization that focuses on patient experience research— provides probably the most accurate and simple one. It defines patient experience as "the sum of all interactions, shaped by an organization's culture, that influence patient perceptions across the continuum of care."
This continuum of care starts from the moment the patient makes an appointment, to the moment after their appointment and even after they get their bill. And in between those moments, there are numerous aspects of the patient's experience that come down to the patient's preferences, needs and values, according to the Agency for Healthcare Research and Quality.
Sometimes people confuse patient experience with patient satisfaction, but according to AHRQ, they're not the same thing. Patient satisfaction mainly focuses on whether the patient's expectations about an encounter were met. Patient experience is a broader term that encompasses each aspect of the patient's journey.
Why is patient experience important?
Now, why is patient experience suddenly so important? Although there's no conclusive research that links patient experience and overall health outcomes, one thing is for sure. Consumers certainly care about patient experience.
A 2018 study by The Beryl Institute found that 91 percent of patients think patient experience is extremely or very important, and it has an impact on the healthcare decisions they make—91 percent!.
Another interesting finding from this study is that seven in ten respondents believe a good patient experience is related to positive health outcomes. This means most people believe that enjoying their experience with a provider is as important, or maybe even more important, than the provider's skills or talent, which is very revealing.
The three main aspects of patient experience according to the participants of this study are:
Human interactions.
Processes.
The actual place in which they receive care.
Let's take a look at what you can do to address all of them in your own practice.
Communicate effectively with your patients
Communication should be your number one priority when it comes to improving patient experience. From the moment your patient makes an appointment to the moment they set foot in your office, communication is key. In order to achieve good communication, you need to make sure you're communicating the right message and using the right tools.
But more importantly, making your patients feel valued and respected throughout your interactions, whether they're virtual or in person, is the main goal here. A more personalized approach will definitely make the difference. Take the time to listen to your patients and ask your staff to do the same.
The right message
Do your patients know what to expect when they visit your practice? Do they know all the services you provide? Are there any special instructions they need to follow before, during or after their appointment? Do they know your billing policy? Are you providing cost estimates?
Make a list about relevant information your patient needs to know and create guides and informational booklets where you clearly explain these things to them. Infographics are a great option too! Here's a great tool you can use for free.
The right tools
Offer several communication channels such as:
Online scheduling.
Appointment reminders and confirmations via text, email and call.
Two-way text messaging (this is a huge plus!)
Patient satisfaction surveys.
A good practice management software will offer these tools, so make sure you ask your account rep about them.
Efficient workflows equal effective care
According to The Beryl Institute's study, the processes patients encounter when they visit a provider were the second most important element of patient experience. This means the organizational aspect of your practice will directly impact whether your patients enjoy their experience with you or not.
Imagine this scenario. A working mom wants to schedule an appointment with a doctor. The only way to do it is over the phone. She had to call four times because no one picked up the phone or returned her call the first three times. No one told her she had to arrive early, so she arrives only 10 minutes earlier. The front desk gives her a ton of paperwork because she's a first-time patient, which takes her about 20 minutes. She's worried about being late, but since the doctor is already running 40 minutes behind, she has to wait even more. When the doctor finally sees her, he's so stressed out for falling behind on his appointments he doesn't even make eye contact. He wants to be done quickly. He immediately turns to his screen and starts typing her medical history. He never asks about her day and doesn't become aware of her preoccupied state. The appointment ends and she has to rush to get back home because she's late for dinner. Since she didn't have a good experience, she won't schedule a follow-up visit.
What's wrong with this scenario?
All of these problems could have been avoided by simply implementing a good booking and scheduling program. This can help the doctor organize his team's workday and give his patients the opportunity to book an appointment or fill out information at their convenience.
A neat, clean office will help your image
When you think about patient experience, you have to think about the environment where you're seeing your patients. First impressions matter, and after scheduling their appointment, your office is the first thing your patients see.
You don't have to spend a lot of money on an interior designer or expensive furniture to have a nice-looking practice, but you certainly need to consider what image you want to project to your patients when they come in. Visiting a doctor can be stressful for some people, so make them feel welcome, comfortable and safe by keeping your office space clean and organized.
Here are some great resources that can help you with your office design:
If you want to find out how TotalMD can help you improve your patients' experience, feel free to reach out to us at sales@totalmd.com or call us at (800) 613-7597.