PECOS is the website to enroll with Medicare.  These applications are processed more quickly than paper applications by Medicare staff, however, if you get stuck in the process, Medicare advisors cannot see what you are seeing on their screens.  The lack of flexibility of the system, may make it easier to do an initial paper application if you are unable to use the website.  The PECOS system is tailored to make sure that only the information that is relevant to you is supplied.  Beyond applying for PECOS enrollment, you can also revalidate, withdraw, or opt out of Medicare through this website.  Here is the link to the PECOS website.
There are tutorials and videos that are helpful to go through prior to starting the process listed below: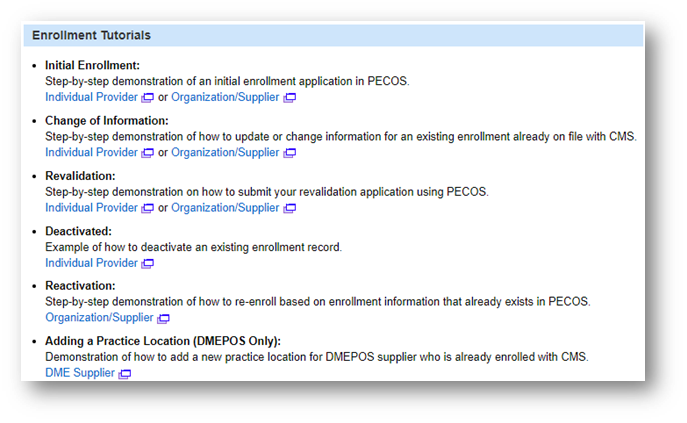 Interestingly, your login and password for PECOS will be the same as the one you use for NPPES and/or Identity and Access (I&A) systems.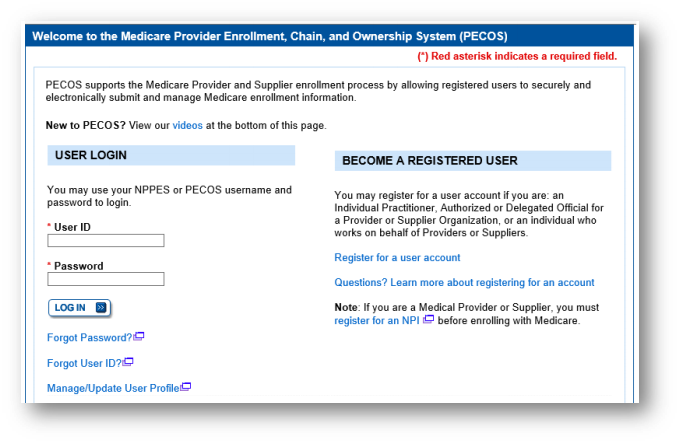 On the welcome page, you will see System Notifications that will give you necessary PECOS updates: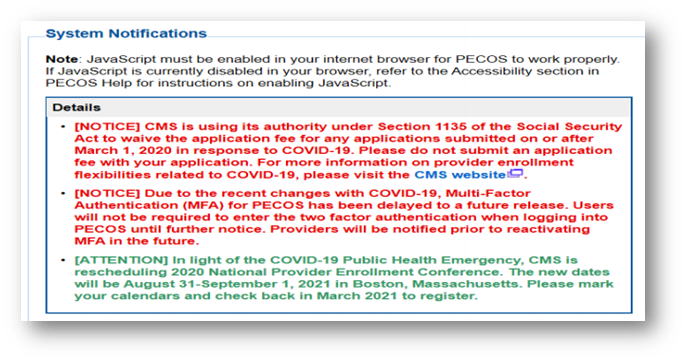 Under the Manage Medicare and Account Information heading, you will see the main three areas of PECOS:

My Associates will show you any and all NPIs that are related to the login you used
Account Management tab will take you to the CMS I&A system. This is a way to add or edit an authorized person
Revalidation Notification Center shows any upcoming revalidations that are out there
Looking more closely at the My Enrollments tab within My Associates, you will see the enrolled NPIs. However, within PECOS, if you are not authorized to view this information within I&A, you will not see the information at all. Only authorized staff will be able to use PECOS effectively.
Staying within My Enrollments, going to the View Enrollment button, you will see PTAN numbers, both active and deactivated. This screen provides quite a bit of information regarding the PTANs. As well as this, you can see all enrollments and their status in this tab. This is a good screen to locate your PTAN if you need to find it. Within these boxes, you can manage a revalidation and much more. The View/Manage Reassignments link, it will show you a detailed report on all of your active NPIs.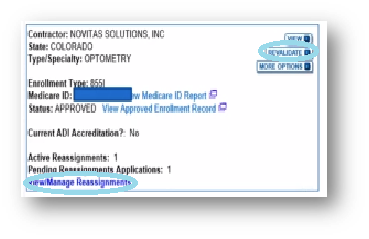 The More Options tab will give you several options: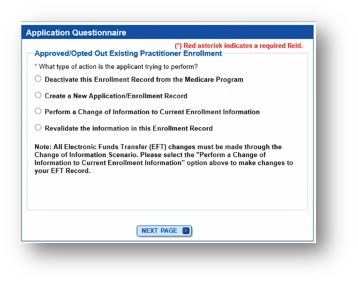 As you continue to make choices, PECOS will move through the website and bring you to the application: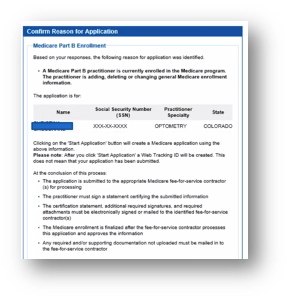 Once you start the application, you will be given a list of Topics to be Addressed: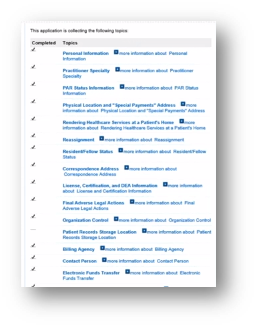 These may not all apply to the process you are currently doing.  You can do multiple tasks all at the same time.  The checkmarks indicate complete, so you will want to uncheck anything that you are updating.  Once you have finished your changes, you may get a warning screen when you go to the Error Check tab: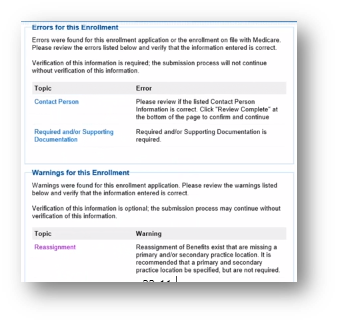 The two topics that are noted above must always be review when making changes, whether you have changes to them or not. They must be visited and reviewed prior to submitting your application.
In the Fast Track tab, you can submit your application. It will then prompt you to e-sign.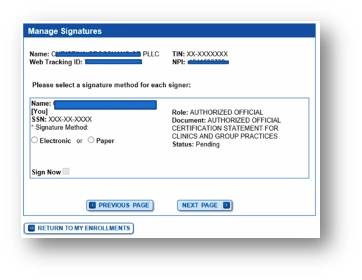 Once you have submitted your PECOS application, you will receive a tracking number. It is suggested that you follow up on this application every 10 days so that it does not get lost. In this Enrollment Status screen, you can search for the status of your application by either the tracking number you were given, NPI or a Document Control Number (DCN) if you have one.

By tracking your application, it will allow you to keep track of developments, such as missing information, that you will need to address. You will also receive a development letter by either email, fax, or USPS. If you do see an "in development" status, you will want to follow up with Medicare to make sure why you have not seen the development letter. You will want to do this as if a development is not addressed in a 30-day period of time, the application will be denied and you must start again.
Once your application is approved, you will now have a Provider Transaction Access Number (PTAN). This number:
Is the provider Medicare identification number
Proves that the provider is enrolled with Medicare
It is included on claims
Any one provider can have multiple PTANs. If a provider is affiliated with multiple groups or tax IDs, i.e. providers office during the week and an urgent care after hours, they will have a PTAN for each affiliation.
At TotalMD, we partner with TriZetto for credentialling.  If you are in need of assistance in the credentialling area, learn more here.
Edwards, K. (2020). MEDICARE: WHAT YOU NEED TO KNOW FOR ENROLLMENT SUCCESS! https://www.trizettoprovider.com/Resources/Resource-Library/Webinars/Medicare-What-You-Need-to-Know-for-Enrollment-Suc