When it comes time to choose an Electronic Health Record (EHR) software, there are many different things to take into consideration.  Ultimately, as with any purchase, we would like to be able to get the best bang for our buck.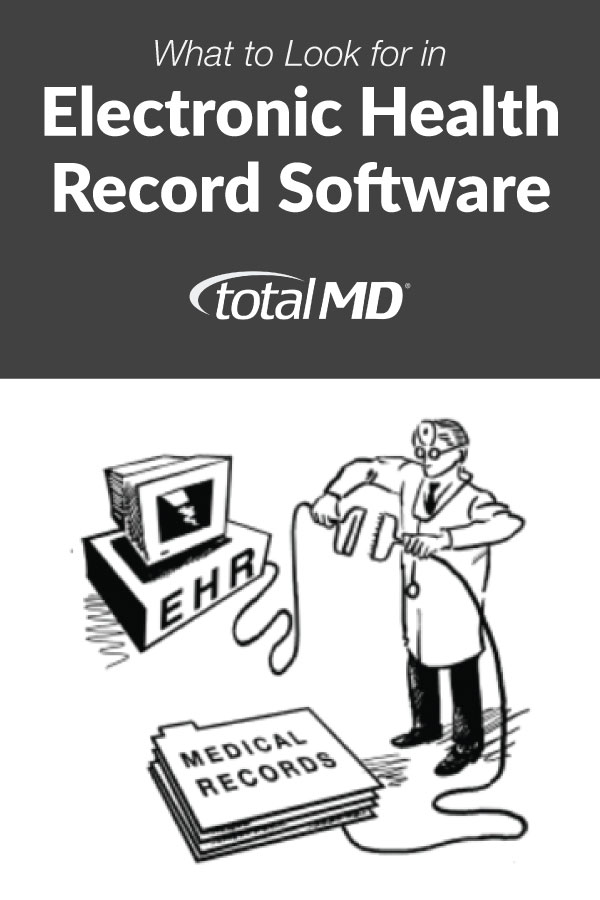 To accomplish this, you will need to look for a program that provides integration and flexibility. In addition, it needs to combine with an incredible price.

The vast majority of companies claim to have an EHR and practice management (PM) actually have two different programs. They try to link together with either an HL7 link or by using some other method.  Unfortunately, those links often break, which causes disconnection that doesn't allow the data to pass from one program to another. Even when data moves to the other program, many pieces of information don't pass across.

Consequently, you often have to deal with two separate databases. Or at least two separate programs. This means more work for everyone involved!
TotalMD is an all-in-one program.
Our program combines scheduling, billing, reporting, and Electronic Health Records all in one program with one database.
Also, what many companies don't seem to understand is that no two offices are exactly the same. Even within the same specialty.  Their systems become rigid and don't allow flexibility or customization. Switching to an EHR is hard enough, but making the office completely change how they do things to fit the way the software wants them to do it makes the transfer even more difficult.  The flexibility made available in TotalMD means the software can be customized to match the office's workflow. Instead of the office having to change to match the workflow of the software.


Finally, pricing is crucial for each Electronic Health Records software program:
There isn't anything worse than finding something you love only to look at the price tag and realize you can't afford it. Countless EHR programs have ridiculous upfront, monthly, or annual fees. This means you can focus on the software without worrying about sticker shock.
Although researching and implementing a new EHR program can be a daunting task, TotalMD is here to help. Our low price, program flexibility, and complete integration is a recipe for success for just about any practice.