As any provider knows, credentialing is one of the hardest parts of keeping your practice in business. Each payor has a different set of expectations and due to NCQA standards, it seems that one payor or the other is constantly hitting the three to five-year recredentialing mark. In this article, government payors are discussed at length to give you some information on credentialing with them. Government payors are the most difficult and exacting payors as far as credentialing is concerned. Later in the article, CAQH – the premier credentialing assistant to providers and payors both – is discussed to give you information on using this service.
The Ins and Outs of Credentialing with Various Payors
Of all the payors available today, government payors seem to be the hardest to credential with and they seem to take the longest to get the process completed. There are four major government payors and they are administered by several different intermediaries:
Medicare
Medicaid
Tricare
VA Community Care Network (CCN)
Of the four, Medicare and Medicaid pay on a set fee schedule. Medicare has a set fee schedule that is nation-wide. Medicaid payment will vary per states and if the state is operating through several Managed Care Organizations, the rates may also vary per payor. Tricare and CCN will negotiate their rates, based off of the Medicare fee schedule. It is also interesting to be aware that most commercial payors base their payment schedules around the Medicare fee schedule as well. Their rates may be slightly higher.
Credentialing times vary by payor, but none of them are very quick. Medicare validation through PECOS can be a 45-60 day process electronically or a 60-90 day process by paper. However, when you are ready to credential or recredential, check the MAC website to determine their current turnaround time. Medicaid is usually a 30-45 day process, while Tricare and VA CCN can run from 60-120 days.
Medicare Administrative Contractors (MAC)
Although Medicare is a Federal program, all provider enrollment is done by state. A MAC is the contractor that the government hires to process their claims for a particular region. They are also responsible for the enrollment of providers into Medicare for their state(s). You must enroll by state, not by MAC. So for instance, if you are doing business in North Carolina, South Carolina and Tennessee, you will have to go through credentialing three times and keep all credentialing active in each stare.
This break out of MACs changes frequently, so you will want to go to the following link to find the most current map https://www.cms.gov/.  If you then put "MAC map" in the search, you will see a list that includes the latest map.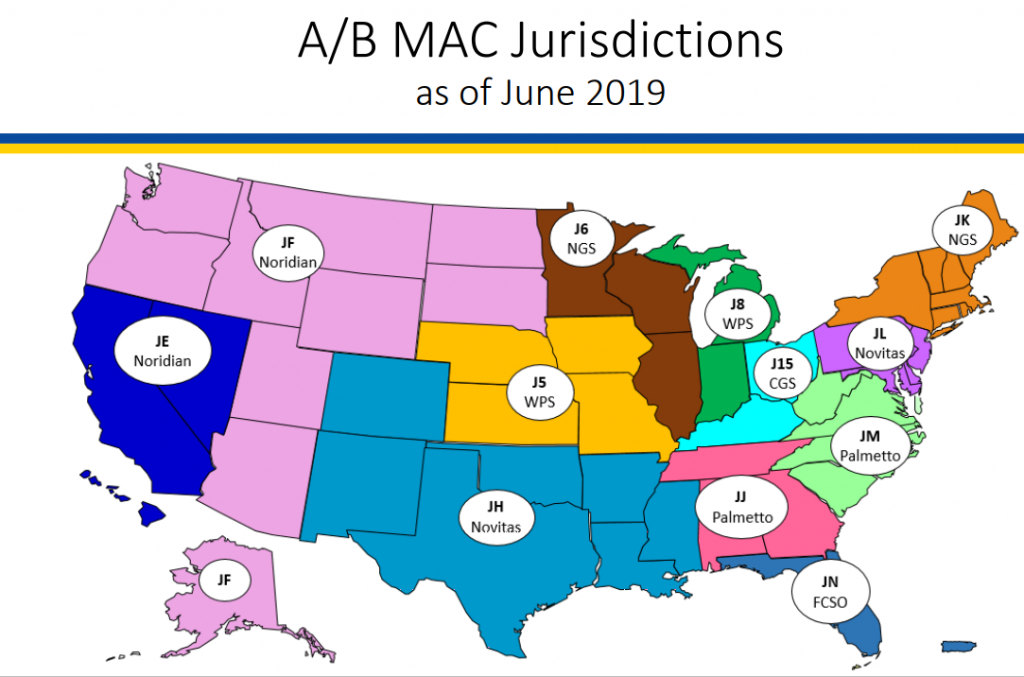 (Centers for Medicare and Medicaid Services [CMS], 2020, Map 1)
Medicare Enrollment Types of Providers
There are three types of providers, as far as Medicare is concerned:
Opt-Out Provider: These providers do not accept Medicare as a form of payment. They have signed an agreement with Medicare stating that they are excluded from the Medicare program. They can charge patients what they feel is fair, however, they do follow certain guidelines:
The patient must be provided a contract describing the provider's charges and confirming that the patient understands that they are responsible for the full cost of care. This is known as an Advance Beneficiary Notice of Noncoverage (ABN)
An Opt-Out provider will never bill Medicare for services provided
An Opt-Out provider can provide services in an emergency situation
The Opt-Out period is two years and is renewed automatically
Non-Participating Provider: this type of provider may agree to take assignment on a case-by-case basis. However, they do not accept the Medicare approved amount as payment in full
This type of provider can charge up to 15% more than the approved Medicare rate for services provided to a Medicare patient. This makes a patient responsible for up to 35% of their care. Some states restrict this 15% even more, i.e., New York restricts the amount to 5% over the Medicare approved rate
If the patient pays the full cost of care in advance, the provider should bill Medicare and the patient should receive reimbursement of 80%of the Medicare allowed amount
When this type of provider does accept assignment, they are penalized 5% for the non-par status
Participating Provider: These providers accept and always take assignment of Medicare benefits. They must accept Medicare's approved rate as payment in full.
These providers must file a claim for care received. Medicare processes the claim and reimburses the provider directly for the care
The patient is responsible for a 20% co-insurance for Medicare covered care
To become a participating provider the CMS-855I, CMS-460 PAR Agreement and the CMS-588 EFT Application must be completed
What Do You Need to Enroll With Medicare? And What Forms Are Used?
There are certain pieces of documentation you need to enroll with Medicare for both a Group or an Individual;
Group
Established Type 2 NPI
Designations for both an Official and Delegate(s)
CP 575 Letter – this states that the group has an Employer Identification Number (EIN)
VOID Check or Bank Letter – business name must match exactly to the CP 575 Letter
Physical location in the state of enrollment
Accurate phone and fax

Forms:

CMS 855B – Group Enrollment

CMS 588 – EFT Application
Individual
Established Type 1 NPI
State Licensure
Copy of Diploma and/or Board Certification
Social Security Number
Date of Birth
Place of Birth

Forms:

CMS 855I – Individual Enrollment or Solely Owned Practice

CMS 588 – EFT Application
If you are going to apply with paper forms, visit the applicable MAC site for Enrollment Guides and Tutorials. The forms can be found at:
https://www.cms.gov/Medicare/CMS-Forms/CMS-Forms/CMS-Forms-List
The forms must be submitted with original signatures. It is suggested that you send your forms with Delivery Confirmation to keep a record of their delivery. The correct mailing address for your MAC will be found their website. It is also suggested that follow up be made in 10-14 business days after mailing to obtain a Document Control Number.
If you are going to enroll electronically through PECOS (Provider Enrollment, Chain and Ownership System) you will go to:
https://pecos.com.hhs.gov/pecos/login.do#headingLv1
You will access PECOS with the user's NPPES information (NPI and password from the National Plan and Provider Enumerator System). The processing time is much quicker this way as a lot of the information is pre-populated, cutting down on errors. However, this is not a user-friendly system. When calling for assistance, the person on the other end of the telephone cannot see what you are seeing so they are limited in their ability to help. It is often told to those needing help they are better off filing paper forms.
After you receive your validation, you will want to routinely monitor your revalidation due dates and keep an idea on the exclusion list. You can check for your due date at:
https://data.cms.gov/revalidation
To check and make sure you are not on the exclusion list you can go to:
https://exclusions.oig.hhs.gov/
Medicaid Enrollment Processes
Medicaid is administered by individual states according to federal guidelines. It is funded jointly by the state and federal governments. It provides health to millions of low-income adults, children, pregnant women, elderly adults and persons with disabilities in America. The degree of difficulty in getting credentialed depends on the state. For instance, many states have now split their programs between different Managed Care Organizations (MCO). Therefore, in those states, credentialing can be a challenge. Other states require such things as Federal background checks of the owners and participants. Information needed to enroll with Medicaid will differ by state, but will typically include:
Provider demographic information such as:
Group requirements can include:

Ownership information including names, demographics and percentage of ownership

EFT information such as VOID check or Bank Letter
Liability Insurance
When you are ready to enroll in Medicaid, you will want to visit the appropriate Medicaid website for information, applications, contact numbers for enrollment office, portal information and possible tutorials. In some states both group and individual enrollments are required and are separate forms. You will want to set up your portal as this is the easiest way to track your paperwork. Follow up needs to be done every 7 -10 business days to make sure the application is proceeding correctly. A similar set of forms will need to be filled out for each Medicaid in which the provider(s) are actively serving patients.
Medicaid revalidation 9s typically every 3-5 years and is mostly conducted electronically. Some states will still send a letter to notify of revalidation needs.
Tricare Credentialing
Tricare is managed by two regions – East, Humana Military and West, Health Net.  This type of insurance provides for the uniformed service members, retirees and their families around the world.  Their rates are negotiable and are often offered at less than the Medicare fee schedule.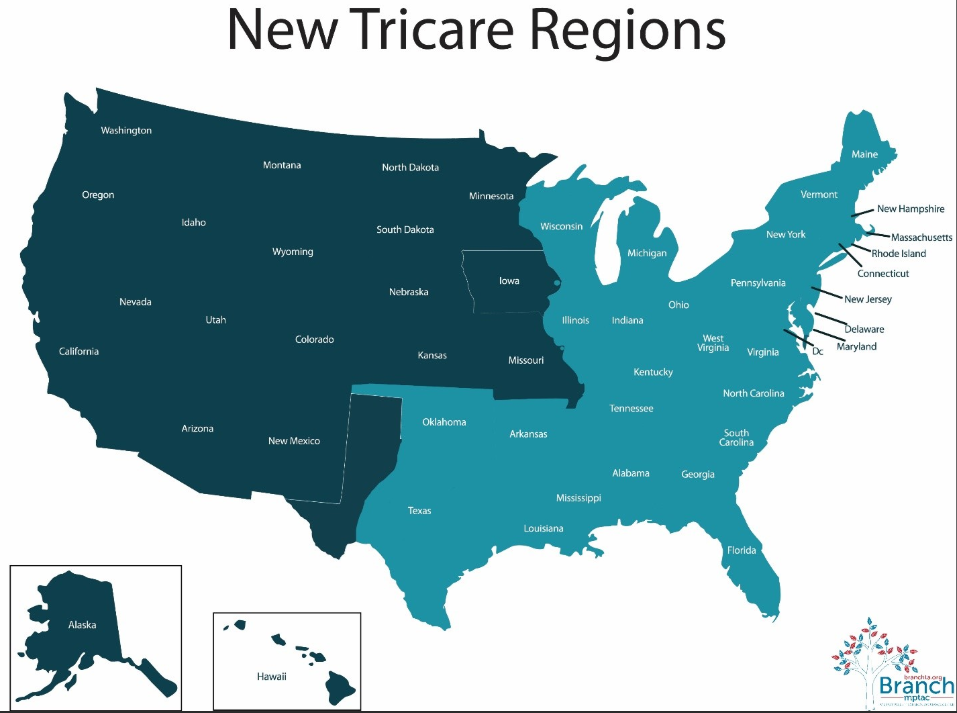 (Tricare [TC]. 2020, Map 2)
Tricare West Region (Health Net Federal services, LLC [HNFS]) can be reached at 1-844-866-9378 or their website is https://www.tricare-west.com/. Tricare East Region (Humana Military) can be reached at 1-800-444-5445 or their website is https://www.humanamilitary.com/.
Types of Enrollment for Tricare
There are three types of enrollment for providers of medical services to Tricare patients:
Non-Participating: These providers are not allowed to see Tricare patients at all
Certified, Non-Network: These providers can see Tricare patients at a discounted rate
Network Provider:These providers can see Tricare patients at the Tricare Maximum Allowable fee schedule (TMAC) or 100% of the Medicare Allowable amount.
Veteran's Affairs Community Care Network (CCN) Credentialing
This is the Veteran's Affairs direct line for their patients with community providers.  With the current volume at VA centers, there is an active creation network in place for removing the limitation of VA patient's options.  The current administrators of this program are TriWest and Optum.  CCN rates are negotiable and often times providers are offered less than 100% of Medicare rates.  Providers should not accept this, as the monies are not returned to the VA, rather they are kept by the administrating party.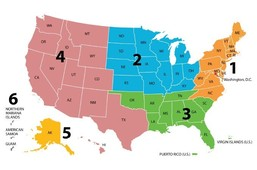 (Tricare [TC]. 2020, Map 3)
Optum controls areas 1,2 and 3 while Health Net control region 4. Regions 5 and 6 are currently unassigned. Triwest can be found at https://joinournetwork.triwest.com/Forms/AddProvider.aspx. Optum's website is https://provider.vacommunitycare.com/tpa-ap-web/?navDeepDivs=VACCNpublicProviderHomeDefaultContent. Processing for applications is usually 90-120 business days after an application and agreement are submitted.
Credentialing with Commercial Payors
Many, if not most, payors are now routing their credentialing processes through the Council for Affordable Quality Healthcare (CAQH), an organization that functions to gather credentialing information from providers to be provided to payors. CAQH is a non-profit group of health plans and related organizations working together to streamline processes in healthcare. Their mission is:
"To accelerate the transformation of business processes in healthcare through collaboration, innovation and a commitment to ensuring value across stakeholders"
Within CAQH ProView, more than 1.4 million providers have registered, free of charge, with CAQH to eliminate redundant paperwork in the credentialing process. There are more than 900 participating health plans, hospital, health systems and provider groups that use CAQH in their credentialing processes. They also use the date for network directors and claims administration to name a couple of the uses beyond credentialing for this database.
CAQH CORE (Committee on Operating Rules for Information Exchange) operates as an industry-wide collaboration for the development and adoption of nationwide electronic business transactions. CAQH CORE also offers a voluntary certification program allowing organizations to demonstrate their adoption and use of the rules developed by CAQH CORE.
CAQH Index tracks the progress between health plans and providers as they move from manual to electronic transactions. This report shows where progress is being made and where it remains to be made.
DirectAssure reduces redundant requests from payors to providers for information, which is costly to both entities. This solution works along with ProView to keep provider's information up to date, in one place and able to be shred with participating payors, as they are authorized to access to this information by the provider. Over half a million providers have updated and attested to information in this system.
VeriFide eliminates overlapping business processes, improving the speed, integrity and quality of credentialing for providers. VeriFide returns 98% of initial credentialing files within 14 days with 98.5% accuracy. This reduces the burden of the payor when verifying provider information. One plan using VeriFide reported that 42% of their initial verification is now done without human intervention. This speeds up the credentialing processing for the provider as well as for the payor.
As a NCQA-certified Credentials Verification Organization, CAQH impacts the industry-wide standards to verify key elements necessary for the credentialing process. VeriFide provides a seamless connection with ProView, where providers can self-report and attest to their professional and practice information.
Provider benefit from:
Reduced time from their initial credentialing request to payment
Less administrative burden due to the coordinated information processing for multiple payors
Less confusion because of consistency across the payors
Dynamic updating of information to all payors at once
This service is provided at a fee to the provider.
Payors benefit from:
Lowered costs by aligning the time of provider credentialing across organizations
Increased accuracy and completeness due to diligent CAQH follow-up
Reduced credentialing cycle with 100% of recredential files returned in 60 days, prior to the provider's target date
Payors are also charged for this service.
EnrollHub provides a single, secure on-line process for providers to sign up for EFT/ERA. After the provider has given EnrollHub the banking information, it can be sent directly to each participating payor as authorized by the provider. Providers are able to access EnrollHub online 24/7 to make changes to their information, making sure that payors have up-to-date information.
COB Smart eliminates the inefficiencies of benefit coordination that costs providers more than $800 million annually. It helps payors and providers to identify individual's overlapping coverage and get the claims processed correctly the first time.
Wrapping It Up
Credentialing is one of the biggest concerns for your practice. If you are not appropriately credentialed, you will not get paid. However, you probably don't have unlimited time and/or staff to complete these processes. At TotalMD, when you use our clearinghouse eSolutions, we work with you to get these credentialing processes underway and help you make sure that you will receive payment for your services. By using our integrated clearinghouse, you save time when submitting the claims, when receiving the ERAs and in the payment process itself.
Give us a call today and inquire about eSolutions to get your practice on-track for a better payment history.

References
CAQH. (n.d.). https://www.caqh.org/sites/default/files/about/marketing/caqh-overview-fact-sheet.pdf?token=lePz1QNd
Centers for Medicare and Medicaid Services. (Cartographer). (2020). Consolidated A/B MAC
Jurisdictions [Medicare Administrative Contractors]. Retrieved from https://www.cms.gov/Medicare/Medicare-Contracting/Medicare-Administrative-Contractors/Downloads/Consolidated-AB-Map-Vision.pdf
Edwards, K. (2020). The Longest Lead Time: Government Payor Credentialing [Lecture notes]. Retrieved from www.Physicians-Ally.com:
Participating, non-participating, and opt-out providers. (2020). Retrieved from https://www.medicareinteractive.org/get-answers/medicare-covered-services/outpatient-provider-services/participating-non-participating-and-opt-out-providers
Tricare. (Cartographer). (2020). CCN Map [Demographic]. Retrieved from
https://content.govdelivery.com/attachments/fancy_images/USVHA/2019/05/2600171/2705392/ccn-regions-updated_crop.jpg
Tricare. (Cartographer). (2020). New Tricare Regions []. Retrieved from https://www.bing.com/images/search?view=detailV2&ccid=cDJyUPce&id=749C534FD
04C65B7CFFDA2E6AB1A5CAF88BE08DD&thid=OIP.cDJyUPce7JhsHpxvLQ6AygH
aFg&mediaurl=https%3a%2f%2fbranchta.org%2fwp-content%2fuploads%2f2015%2f05%2fNew-TRICARE-Regions.jpg&exph=1062&expw=1429&q=TRICARE+East+Region+Map&simid=608041359044316157&ck=4E267B89C19C44406B9A3F30EC7A2F37&selectedIndex=0&ajaxhist=0