Performing regular backups is important to prevent data loss. Your TotalMD software can reinstall, but in the event of failure, your data could quite possibly become lost forever.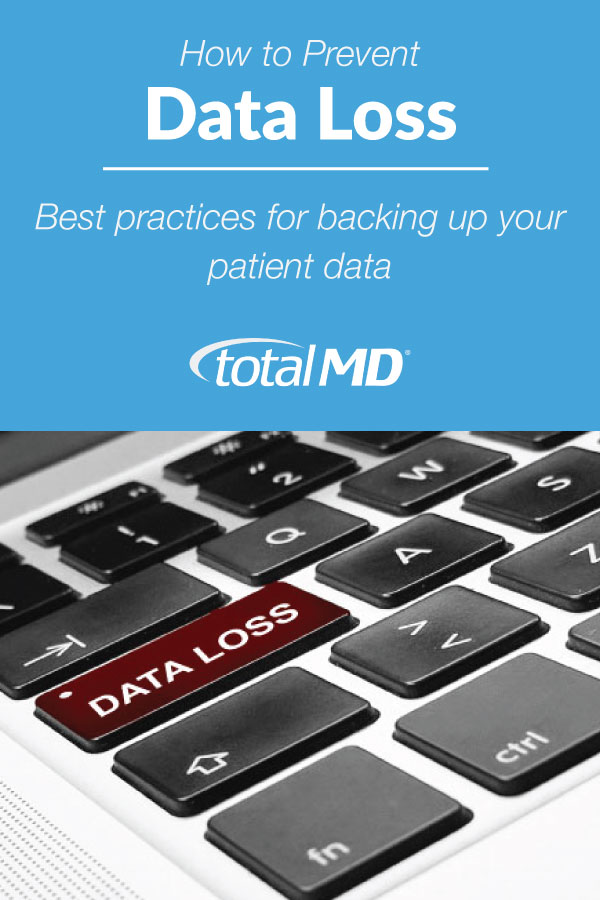 There are various causes for data loss, including hard drive failure, virus, power outage, software upgrades, fire, flood, and human error.
There are several methods for backing up your data. We've listed the most common (good, better, best) ways to back up your data here:
Good:
For a basic backup, use the TotalMD option "Back Up Practice Files" accessible from the File menu option. This option is only recommended for offices not using TotalMD Document Center. Because no Document Center files are included in this very basic backup.

Better:
If your practice uses TotalMD Document Center, you will need to back up the entire TotalMD data folder. You can locate the TotalMD data folder on the C:\ drive of the server computer.

The easiest way to back up this folder involves using a zip program (built into Windows 7 and higher) to zip the contents of the folder. Then copy the zipped TotalMD data folder to an external drive (either an external hard drive or USB flash drive).

After completing the backup, store the external drive in a separate location from your server. So in the case of a fire, natural disaster, or theft you don't lose both the server and the backup data.

Best:
The best way to back up your data is with an automated daily backup program like Cobian, Comodo, Crashplan, Acronis, or Carbonite. Symantec Ghost Solution Suite or Veritas Backup Exec are excellent options for a self-hosted solution. These local automated backup solutions can set to backup to external hard drives, USB flash drives, an external off-site backup storage device, or local cloud storage.

You can also use automated online backup programs, like Spideroak. These programs backup and store your data in their cloud and safeguard your practice from any on-site backup failures.
Regardless of which backup method, your practice chooses to use, it is important to regularly test the backup. Through these means, you can verify your data backs up and stores properly.

TotalMD technical support is always available to work with you to help determine the best backup method for your practice.