Theft and embezzlement are widespread practices among every industry, and healthcare is no exception. According to the National Health Care Anti-Fraud Association, financial losses due to healthcare fraud amounts to tens of billions of dollars a year.

According to a Medical Group Management Association survey, 83 percent of practice managers were associated with a practice where employee theft had occurred.

It's true that trust and honesty are very important when it comes to hiring employees that will take care of your financials. But there are certain tools a practice management software can provide in order to increase accountability and minimize human error.

Here's how you can do it.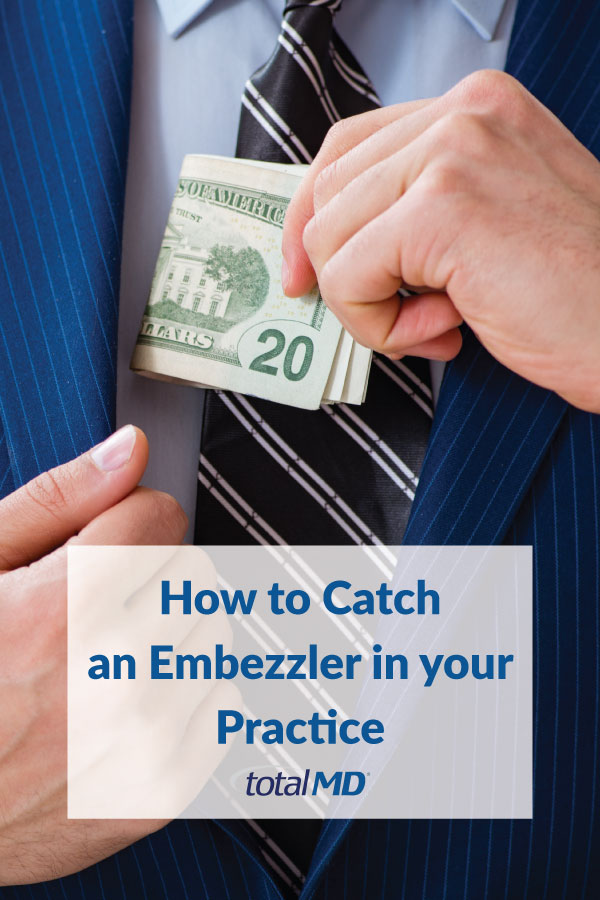 How I caught an embezzler
Several years ago, one of my office's collections had decreased significantly and I was very concerned. After reviewing our practice management software's appointment book, I found that the office manager was under-collecting for my associate's work.

One of the things I noticed was that some completed procedures that appeared on the appointments were missing from the ledger. This was especially true for the "cash" patients. In fact, cash payments are some of the most common ways an employee theft can occur. I confirmed this inconsistency by reading my associate dentist's progress notes, and that's how I verified my suspicion.

There was a huge discrepancy between the work my associate had recorded in his progress notes, and the work the office manager had recorded in the ledger. After running an audit report, I realized my office manager was also deleting cash payments and then reentering them at lower amounts.

I wanted to give her an opportunity to confess. I confronted her and asked why she had failed to enter certain procedures and why she had deleted cash payments from the software. To my surprise, she made up a very detailed and lengthy explanation for each of my questions.

Part of me wanted to give her the benefit of the doubt, but I couldn't ignore the data the software provided. The only thing left to do was calling the patients themselves. So I called one of the patients and informed her we were auditing our books. I asked her a few questions about her visit, and she then confirmed my suspicions.
How medical software can prevent embezzlement in a medical practice
As I mentioned before, in an ideal world, the main defense against embezzlement would be to hire honest people. But beyond reviewing work history and calling references, no one can guarantee that your staff will never steal from you.

86 percent of people who commit employee fraud have never been previously charged or convicted of committing a fraud-related crime, according to the Association of Certified Fraud Examiners. And most of the people who commit employee theft have been working in the company for years. That's how they know the ins and outs and how they gained the trust of their employers.

In fact, small businesses tend to be disproportionately victims of embezzlement precisely because they overwhelmly rely on trust and lack proper internal controls.

To put it mildly, without the right medical software, you cannot properly prevent employee theft. I would not have confirmed my suspicion and caught this employee without the detailed information provided by my software.

Fortunately, TotalMD has the ability to set up customized security and provide the reports needed to monitor staff. This type of function allows you to define the areas of the software your staff members have access to, and to what degree they get this access.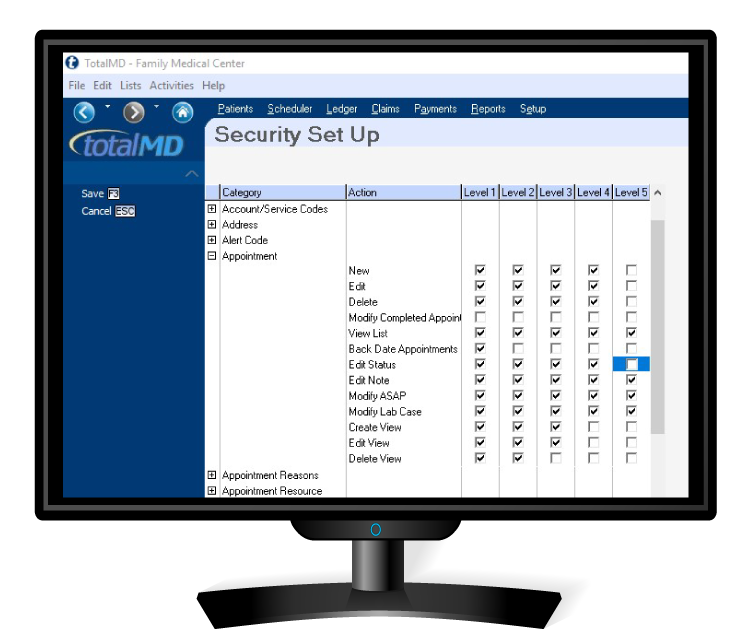 For example, If you don't want your employees to delete ledger items without your consent, such as cash payments, you can limit access rights to the ledger. You could also set up the ledger so your front desk staff can add and edit items, but not delete them.

You should also run audit reports for each employee. This report will tell you what your employees have deleted or added to your software.

You can always do the best you can in hiring trustworthy employees, but you can also take advantage of these features to verify their honesty. By routinely running these reports and audits, you will be verifying that employees are honest and your trust and appreciation for them will increase. But, in case you do find something wrong, you can take immediate corrective action.