With so many new options out there, it can be difficult to decide between cloud-based medical software or the traditional server-based medical software.
In this article, we list some of the things you may want to consider if you're trying to decide which option is the best for your practice.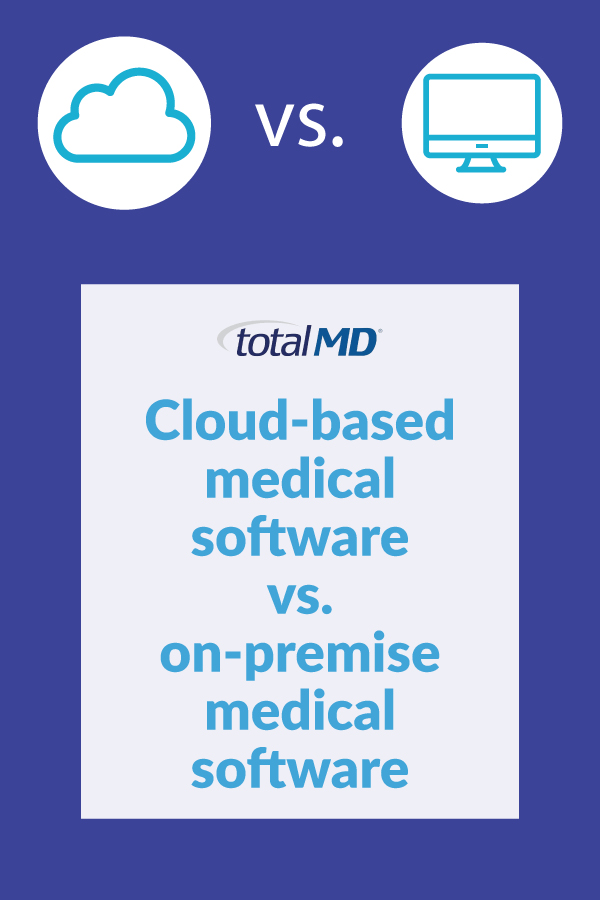 Cost
A cloud-based program usually runs on a monthly subscription. This means you won't actually own the software, and as soon as you stop paying, the software goes away. However, you won't have to worry about paying for new upgrades or updates since those are included with your monthly subscription.
With an on-premise solution, you would need to buy a license, which can cost you a couple thousand dollars upfront. At TotalMD, we also offer monthly payments for on-premise solutions, but most software companies don't do that. Buying a license also means you will own the software, but you will have to pay an extra fee to get upgrades or updates.
Another cost you need to budget for with the server-based option are the costs associated with IT maintenance. With a cloud-based solution, those costs are covered by the vendor.
Accessibility
Cloud-based software can be accessed by logging in through an online portal. You can sign in and use it anywhere you have a trusted and secure internet connection. Because of its mobility, providers can take a laptop between multiple offices or work remotely.
With on-premise software, the software can only be accessed on the computer or location where you installed it. For example, if you set up your program on the desktop in your front office, you can only have access to your data on that computer.
Security
With a server-based medical software, you're responsible for backing up your data and protecting it against malware.
A cloud-based medical software on the other hand, like the one TotalMD offers, will take care of security and regular backups at the main source. Monthly cloud plans also ensure everything stays up to date with security updates.
Plugins and integrations
Another important point to consider are plugins and third-party integrations. In other words, what APIs will work with the software? Cloud-based medical software may have some limits as far as API or third-party integration is concerned, while on-premise software may have more advanced integration capabilities. Be sure to ask your vendor if their cloud-based software allows for third-party integrations.
For more information about which option is the best for you, feel free to emails sales@totalmd.com or call (800) 613-7597.