For many reasons, telehealth is a great option for doctors and patients:
COVID-19 quarantine
Rural patients
Patients with limited mobility
Getting Started
Typically, you must use a platform that has a Business Associates Agreement (BAA) that covers HIPAA regulations. This lets out Skype, Email and Text Messaging. You will need to obtain an option that has the same capabilities as Skype, but that meets these regulations:
HIPAA Compliant
Has the ability to remotely edit and delete PHI
Secure channel of communication
Only authorized users would be able to access PHI
All activity is able to be audited
All documents, images and videos are encrypted
An excellent tool for this is to sign up to use TotalMDs Backline Telehealth Solution. This will keep you HIPAA compliant and it is an easy to set up solution. Just contact our Sales Team at 800-613-7597 Option 1. They will be happy to arrange a demonstration for you and get you started.
Parity Laws – Who Allows Telehealth
Many states are now requiring commercial insurance companies to reimburse for telehealth, if the patient's policy allows for it. This is known as Parity Laws. Many of the large Commercial companies such as:
Blue Cross Blue Shield
Cigna
Humana
Optum
United Healthcare
Aetna is as well, just not on the same level as the other payers listed above.
To find out about Parity Law in your state, the American Telehealth Association can assist you in determining your states laws. Their website is AmericanTelehealth.org. Another good resource on telehealth information is CCHPCA.org which is the Center for Connected Health Policy.
However, you should always make sure via eligibility that the service is covered for every patient. This can be done by calling provider services at the telephone number on the patient's card. Mental health is a little harder sometimes as their eligibility is often handled by a third-party. Once you have the eligibility on the line, you will need the following information for the representative to be able to help you:
Your NPI and Tax ID
The patient's:
They may also ask to verify your office location, your name and a call-back number in case you get disconnected.
These are the questions you should ask when you get connected to a representative:
Am I in- or out-of-network, confirm your network status
Does this patient have in- or out-of-network benefits?
Is telehealth a covered benefit for this patient?
What payer ID do I route claims to for this patient?
Which CPT/HCPCS codes do I use to bill my specific services to for this patient?
Are any modifiers needed with these codes?
Are there restrictions/requirements regarding the location of the patient and/or provider?
Is my practice to practice telemedicine for this patient?
Is there any additional documentation needed?
What is the reimbursement for these codes?
Credentialing for Telehealth
Credentialing may or may not be required for these services. For instance, Cigna has a special attestation that must be filled out prior to rendering telehealth services.
Billing for Telehealth
The easiest way to think of billing for telehealth is to only bill the codes that you are already eligible to bill on your claims, unless directed otherwise by a specific payer. The difference the modifiers you will add to your code in box 24D:
GT – services delivered via interactive video and video telecommunication systems
95 – synchronous telemedicine service rendered via a real-time interactive audio and video telecommunication system
The place of service in box 24B should be 02 for telehealth.
The Latest CMS Regulations
Having said all of that about Billing, the latest release from CMS is a bit different. These are the codes that they are now saying to use for Medicare billing: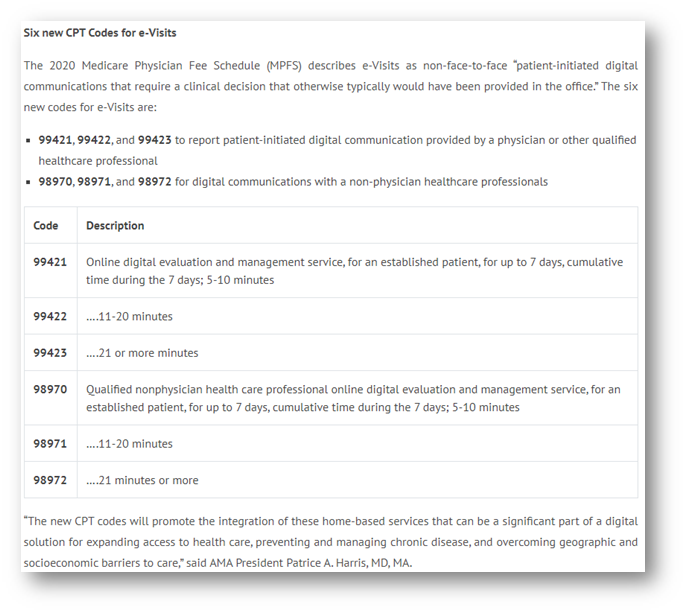 This table gives clear direction on billing telehealth for Medicare, effective 1/1/2020.
This leaves the biller doing telehealth billing specialist wondering, "How does COVID-10 impact billing for telehealth?" Below is a table from a toolkit published by the United States government, retrieved from the American Academy of Family Practitioners: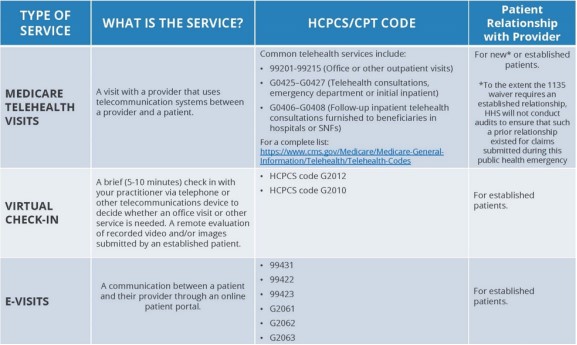 Effective immediately, the HHS Office for Civil Rights (OCR) will exercise enforcement discretion and waive penalties for HIPAA violations against health care providers that serve patients in good faith through everyday communications technologies, such as FaceTime, Zoom, Doxy or Skype, during the COVID-19 nationwide public health emergency. The A-V call must be originated by the patient. For more information:
https://www.hhs.gov/hipaa/forprofessionals/special-topics/emergency-preparedness/index.html
CMS encourages all providers to share with patients these new abilities to provide healthcare through telemedicine. (Centers for Medicare and Medicaid Services [CMS], 2020, p. 2)
Here is the Table of Contents for this document, as it may help you determine if it is applicable to you: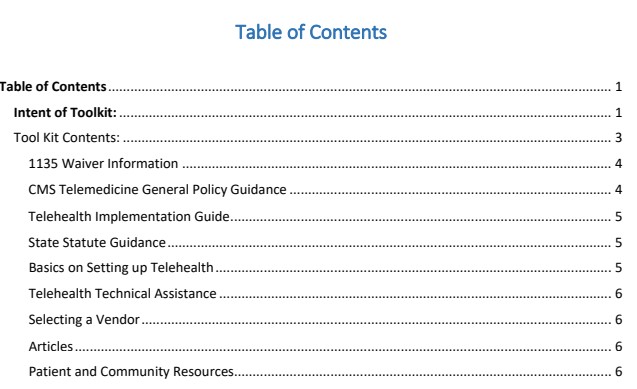 The following link will give you the steps you need to get started with telehealth during this time: https://www.ama-assn.org/practice-management/digital/ama-quick-guide-telemedicine-practice
The table that is below, is not an exhaustive representation of codes and amounts, however, it will give you some guidelines: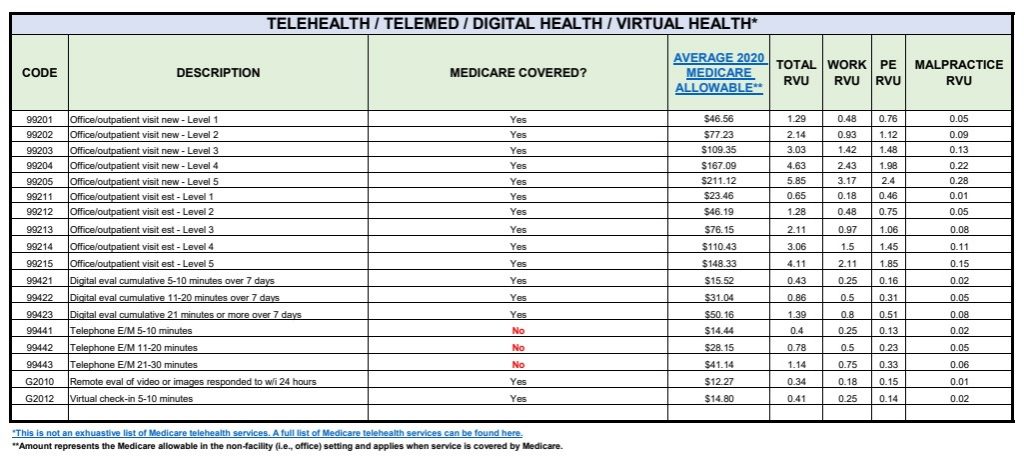 https://www.cms.gov/newsroom/fact-sheets/medicare-telemedicine-health-care-provider-fact-sheet and
https://www.medicaid.gov/medicaid/benefits/downloads/medicaid-telehealth-services.pdf are great references for billing Medicare as well.
Further Breaking Down COVID-19 Billing
During the COVID pandemic, the rules for telehealth have been relaxed. For instance, the home or a facility either one can be the originating point of the visit. These are common telehealth codes and their explanations:
Audio-Video visit -The telehealth codes for the E&M visits and typical times are as follows:
Codes 99201–99215

99201 Office or other outpatient visit for the evaluation and management of a new patient, which requires these three key components: a problem focused history; a problem focused examination; and straightforward medical decision making – 10 min
99202 – 20 min
99203 – 30 min
99204 – 45 min
99205 – 60 min
99211 – Office or other outpatient visit for the evaluation and management of an established patient, that may not require the presence of a physician or other qualified health care professional – 5 min
99212 – 10 min
99213 – 15 min
99214 – 25 min
99215 – 40 min
No modifiers are necessary for Medicare, however, commercial insurance will require a 95 or GT modifier. Other codes for telehealth are:
G0425-G0427 Telehealth Consults, ER, Initial patient
G0425 Telehealth consultation, emergency department or initial inpatient, typically 30 minutes communicating with the patient via telehealth
G0426 – 50 minutes…via telehealth
G0427 – 70 minutes or more… via telehealth
G0406-G0408 F-U, initial patient tele-consults – hospitals/SNFs

G0406 Follow-up inpatient consultation, limited, physicians typically spend 15 minutes communicating with the patient via telehealth
G0407 – 25 minutes via telehealth
G0408 – 35 minutes via telehealth
More excellent information is provided in this article as well
https://www.outsourcestrategies.com/blog/telemedicine-coding-and-billing-during-the-covid-19-pandemic.html
If you need further assistance on this topic, please feel free to reach out to the TotalMD training department at 800-613-7597 extension 011.
Centers for Medicare and Medicaid Services. (2020). General Provider Telehealth and Telemedicine Tool Kit (). Washington, DC: Government Printing Office.
Telehealth: Billing Insurance & Getting Paid. [Video file]. (2018, March 15, 2018). Retrieved from https://www.youtube.com/watch?v=TWUP8mIx-_E
TELEHEALTH / TELEMED / DIGITAL HEALTH / VIRTUAL HEALTH. (2020). Retrieved from https://www.aafp.org/dam/AAFP/documents/practice_management/payment/TelehealthTelemedDigitalHealthVirtualHealth.pdf
Tornese, N. (2020, February 10, 2020). Meet the New CPT Codes to Report e-Visits in 2020 [Blog post]. Retrieved from https://www.outsourcestrategies.com/blog/meet-the-new-cpt-codes-to-report-e-visits-in-2020.html