Global period is one of those insurance terms no one really knows what it means, but everybody should know about.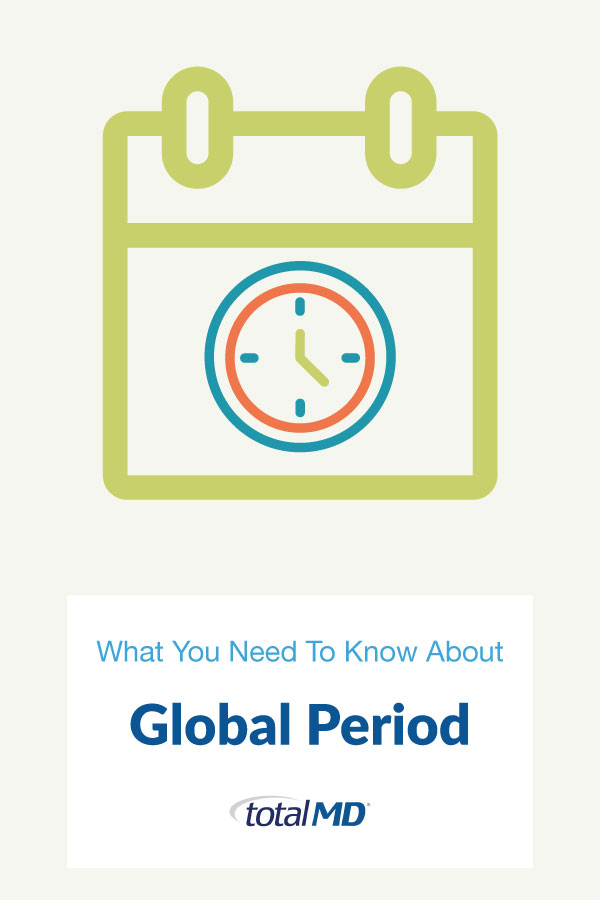 Back in 2010 I was the scoutmaster for the local Boy Scout Troop in Mesa, Arizona. Each summer, a few other leaders and I would take a dozen or so scouts up to the mountains to a Boy Scout camp outside Flagstaff, Arizona.
In order to go to the camp each boy and adult were required to have a form signed by their doctor stating they were in good health. After all, they certainly don't want to be dealing with a medical crisis in a remote area 30 minutes from the nearest hospital. So about two weeks before the start of the camp I went to my doctor and got an annual physical. With a clean bill of health I went and enjoyed the fresh air and cooler temperatures of the mountains—at least as much as is possible when spending five days herding 12 and 13-year-old boys around.
A few weeks after my return home I got my statement in the mail. I was quite surprised when I opened that envelop and saw the balance that I owed because the insurance had not paid a dime. Of course I was a little upset. Afterall, when I pay my insurance premium every month I expect the insurance to pay for these visits every year.
The next day I called my insurance company and learned for the first time about global periods. For certain services, an insurance company may only pay once in a given period of time. So in my case the insurance company was only willing to pay for a physical once in a 12 month period. Since it had only been 11 months since my last one they told me I was responsible for paying the bill (after explaining my situation they did end up paying it). This was my first glimpse into a global period.
What is global period?
So what does global period mean? There are many services that an insurance will only pay for one time in a given time period. That time period may be a week, a month, 90 days, a year, or some other amount of time. I guess it probably should stand to reason, for example, that an annual physical will only be paid for by the insurance once every 12 months. When one of these services is performed, a global period of the specified amount of time begins.
If that service is repeated before the global period ends, the service provider risks not being reimbursed by the insurance. Of course at that point you can attempt to collect from the patient, but of course the patient is not going to be thrilled about this.
It puts the office in a difficult situation if the patient is not aware of how global periods work. Sure, the patient could have called the insurance company and checked with them before their appointment, but we know that doesn't happen.
Fortunately there is a better option for the office if they have the right billing software. For example, TotalMD allows the office to put in the number of days in a global period for each procedure code. Then, when the code is used it begins the timer for that specific code. So, if the patient calls in to schedule an appointment they can see right on the screen if they are in a global period and which code it is for.
If they see the global period ends in a couple of weeks they can schedule the appointment after it is up or they can let the patient know they may be responsible for the charge. Either way, the office is in a much better position to get paid and keep the patient happy.